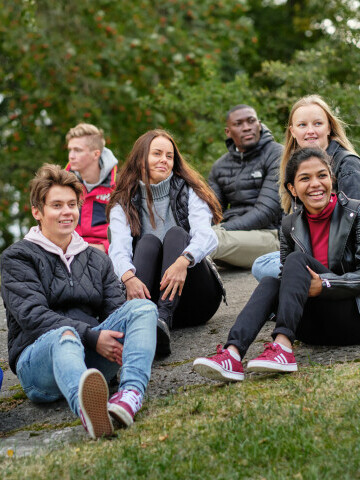 New Student? Important to Know
Congratulations to All New Students and Welcome to Novia UAS!
On this page, you, as a prospective Novian, will find instructions on how to accept your place of study, as well as information relating to all new students, regardless of campus and degree progamme.
Check List for New Students
The following links will guide you to important information about how to accept your place of study and how to begin your studies. Make sure you have read, and completed, all the steps expected of you.
Finnish and EU/EEA Students
Non EU/EEA Students
Welcome to Novia UAS!
Novia UAS Welcome Office offers support and information about moving to, and living in, Finland
E-mail: welcome@novia.fi
Student Services
Student Services offers administrative services, support, and information regarding studies
E-mail: studentservices@novia.fi
Front Office Opening Hours on Campus:
Monday: 9am - 11.30am
Wednesday: 1.30pm - 3pm
Thursday: 9am - 11.30am
Admissions Services
Admissions Services offers information about student admissions, confirmation of acceptance, and claims for adjustment
E-mail: admissions@novia.fi
Telephone Hours
12pm-1.45pm (Weekdays; Finnish Time)
Tel. +358 (0)6 328 5555
Fax +358 (0)6 328 5117
Degree Programmes at Novia UAS Campuses
At which campus should you study? The following educations are located at the Novia campus
Bachelor and Master Degree programmes 2023
On the campus page you will find information for new students at your particular education.
President's Welcome Greeting
I have the great pleasure of welcoming you to Novia University of Applied Sciences.
At Novia UAS, we focus on student-centered learning. Every student is actively involved in the learning process together with the teachers. Through your studies, you will develop good professional knowledge and skills, based on working life requirements.
For those of you who are master's degree students, I hope that the education will contribute to improving your opportunities in working life and that the education will be of use at your work place.
The head of the degree programme is the primary contact person for you, and will guide you in matters concerning the education and your learning progress. The staff in the Student Services will help you in many practical matters.
You are cordially welcome to Novia University of Applied Sciences!
Örjan Andersson, Novia UAS President