International Novia UAS
In an increasingly multicultural society and international working life, new skills are needed. By gaining international experience during your study time, you improve your opportunities to work in a multicultural environment both internationally and in your home country.
Novia offers English-taught programmes at bachelor's and master's levels. We participate in numerous exchange programmes and international projects. We can also offer Double Degree programs in specific study fields. We have about 230 international degree students from more than 50 different countries and about 100 incoming exchange students annually, all of whom contribute to creating an international study environment. A central goal of Novia is to integrate international activities into teaching and in the study environment in a natural way.
In 2021, 119 Novia students went abroad for exchange studies or practical training. The most popular countries were Sweden, Belgium, and Norway for exchanges over three months. Novia accepted 132 exchange students in 2021, most of them coming from Germany, Spain and the Netherlands.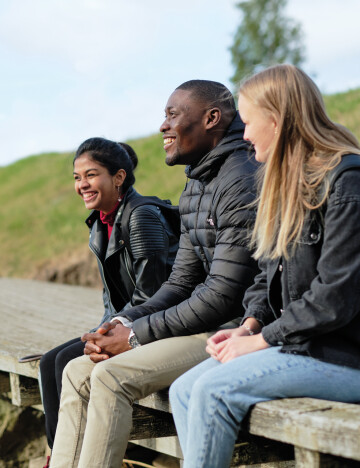 Erasmus Charter for Higher Education
The European Commission has awarded Novia University of Applied Sciences an Erasmus Charter for Higher Education (ECHE) for the period 2021-2027.
The ECHE is a prerequisite to participate in the mobility and project cooperation under the Erasmus+ programme and thus continues and promotes the internationalisation.
Erasmus Charter for Higher Education 2021 - 2027
Erasmus Policy Statement 2021-27
Novia University of Applied Sciences
Erasmus Charter Proposal Number: 101009500
Erasmus code: SF VAASA13
PIC code: 947312962
OID code: E10166177
Erasmus+
Erasmus+ for Higher Education supports international cooperation between higher education institutions and mobility of their students, teachers and other staff. Additionally, the programme promotes the quality and internationalisation of higher education.
Novia has more than 120 Erasmus-agreements in about 30 different countries in Europe.
Erasmus+ for higher education aims to modernise and improve higher education across Europe and the rest of the world. It gives students and staff opportunities to develop their skills and boost their employment prospective as well as exchange of good practices between universities and businesses.
Nordplus
The Nordplus Higher Education Programme is a mobility and network programme in the higher education sector, on bachelor and master levels, for the Nordic and Baltic countries.
The aim of the programme is to create a collaboration between the institutions that participate in the programme through exchanges, experience, good practice and innovative results. The programme also supports collaboration between higher education institutions and other organizations.
Collaboration takes place in networks consisting of at least three higher education institutions from at least three countries. A network may collaborate in one subject field with one theme or be cross-sectional combining several fields of study. Collaboration include student and staff mobility but also intensive courses and common projects.
Novia participates in about 20 different Nordplus networks.
Nordplus is the Nordic Council of Ministers' most important programme in the area of lifelong learning. It aims are to strengthen Nordic educational cooperation, lifelong learning and to promote Nordic languages and culture.
Head of International Relations
Wolffskavägen 33
65200 VASA
International Coordinator
International Coordinator
Wolffskavägen 33
65200 VASA