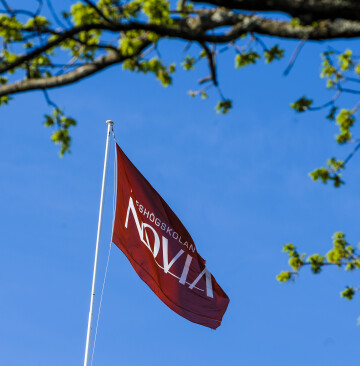 A High-Class and Dynamic University of Applied Sciences

Novia's area of activity is located along the Finnish coast and the University of Applied Sciences operates in Vaasa, Turku, Raasepori, and Pietarsaari. With 4750 students, and a workforce consisting of about 350 people, Novia is the largest Swedish-speaking UAS in Finland. Novia UAS has a close working relationship with the business community and an active alumni network.
We offer high-class, work-entrenched education for our graduate students, as well as continuing education. We conduct Research, Development, and Innovation (RDI) activities relevant to the outside world. We are responsive to the needs of working life and lay the foundations for the sustainable development of society.
| | | | |
| --- | --- | --- | --- |
| Students | Staff | Campuses | Institutions |
| 4750 | 350 | 5 | 5 |
Novia Has Five Modern Campuses
Vaasa Campus

Turku Campus and Gripen Campus, Turku

Aboa Mare, Turku

Raasepori Campus

Campus Allegro, Pietarsaari

Subic Bay, Philippines
Novia UAS is a share-holder of the Giga Mare Inc. which offers education within the maritime cluster in the Philippines. The ownership is seen as a strategic means to promote internationalisation and strengthen our position in Asia.
Faculties at Novia UAS
Faculty of Arts and Culture
The faculty is located in Pietarsaari.
Faculty of Business
The faculty has offices located in Vaasa, Turku, and Pietarsaari.
Faculty of Bioeconomy
The faculty is located in Raasepori.
Faculty of Health and Welfare
The faculty has offices located in both Vaasa and Turku.
Faculty of Technology and Seafaring
The faculty has offices located in Vaasa, Turku, and Raasepori.
Novia UAS Offers
Bachelor's Degree Programmes
Master's Degree Programmes
Continuing Education Studies
Open UAS Studies
Open Path Studies
Fields of Study
Arts and Humanities

Bioeconomy

Business
Health and Welfare

Technology and Seafaring
Background
Novia is a modern multi-professional, high-class University of Applied Sciences (UAS), based in Finland. At our campuses in Vaasa, Turku, Raasepori, and Pietarsaari, our 4500 students and 320 staff work across disciplines to advance research and practical knowledge in the fields of
Arts and Humanities
Bioeconomy
Business
Health and Welfare
Technology and Seafaring

Ownership
Novia UAS is owned by
Ab Yrkeshögskolan vid Åbo Akademi owned by Åbo Akademi 75 %
Federation of Swedish Municipalities in Ostrobothnia for Education and Culture/
Svenska Österbottens förbund för utbildning och kultur (Söfuk)12,5 %
Utbildningsstiftelsen Sydväst 12,5 %
Novia UAS Daughter and Associated Companies
The Schauman Hall (ownership 100 %)
Aboa Mare (ownership 70 %)
Edunova (ownership 50 %)
GigaMare Inc (ownership 20 %)
The Schauman Hall
Board: Örjan Andersson, Kaj-Gustaf Bergh and secretary Anne Ekstrand.
CEO Håkan Omars.
Aboa Mare Ab
Board: Örjan Andersson, Anna Henriksson and Kristian Blomqvist.

CEO Micael Vuorio.
GigaMare Ab
Board: Walden H. Tantuico, Örjan Andersson, Anthony Shibley and Elisa B. Ullakonoja.
CEO Jari M. Ullakonoja.
Edunova Ab
Board: Örjan Andersson, Ulrica Karp, Anne Levonen, Camilla Ekman and Stefan Malm.

CEO Max Hagström
Looking for an Expert?
Are you looking for an expert or want to do an interview with a member of our staff?
Do not hesitate to contact us!
Media
The Communication Team at Novia UAS helps journalists and the mass media find the right contact person, as well as obtain images and information about what is currently happening within Novia UAS.
Get in touch with the Head of Communication Jenny Svartsjö or Communicator Caroline Lång.
FINEEC Audited
Novia UAS has been approved by the Finnish Education Evaluation Centre (FINEEC) which is responsible for the evaluation of higher education institutions in Finland. The Council for the Evaluation of Colleges approved Novia UAS in an audit in January 2019 and, thus, the university of applied sciences was granted the national quality stamp for six years.