About Student Union Novium
Novium is presenting student rights and working for all the students to get fairly treated. We want everybody who studies at Novia UAS to get a high level education and to have an amazing time at the university!
All students studying at the bachelor level, as well as those who are on exchange at Novia UAS, are assigned a tutor. All members get their student card and student benefits.
As the statutory Student Union at Novia UAS, it's Novium's duty to choose student representatives at Novia. Novium is there for you as a student, so if you have any questions or ideas, don't hesitate to contact us or just pop into one of our offices.
Novium is an independent service and support organisation for all the students at Novia UAS. Its status is regulated by law. Annually, members of the student union elect representatives to the Union Council. The decisions of the council are implemented by the Executive Board, which is supported by a Secreteriat.
The student union is represented in the Board of Novia UAS, as well as in other decision making bodies within Novia UAS and, therefore, has good possibilities to voice students' interests in all areas of decision making. Novium is also a member of the National Union of Students in Finnish Universities of Applied Sciences – SAMOK, which promotes students' interests on a national level.
In addition to subsidised meals in students restaurants and discounts for bus and train tickets, membership means first and foremost a great opportunity to get to know students from other degree programmes and Novia UAS campuses. The student union organises get-togethers, excursions, sports activities, and an annual ball. A typical feature for most social events organised by Finnish student union is wearing of an overall in the colour of one's own student organisation. International students are welcome to follow this dress code and buy their own Novia UAS overalls.
For international students, the first contact with the Student Union will be the International Tutor who meets them on arrival, shows them around, and introduces them to the studies and Finnish way of life. There are also Peer Tutors for new students, PR Tutors who take part in the recruitment of new students, and "old" and wise Mentor Tutors who share their experiences of study related matters with younger students. For more information please visit www.novium.fi.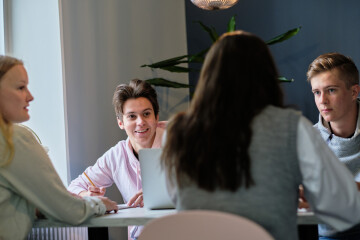 Why should I become a member of Novium?

Because you get:
support, help, and important information from Novium
the student card which, among other things, entitles you to cheaper travel on trains and busses, in addition to meal support from Kela
more favourable entry to events hosted by Novium
ability to become a tutor or member of any of Novium's committees
option to vote in the elections and the opportunity to influence the activities of Novium
the assistance of Novium's Harassment Officer if you are unfairly treated, discriminated against, or inappropriately dealt with
ability to stand for office in the elections, with the possibility of being able to sit on Novium's council
opportunity to be on the Novium Board of Directors
Learn more at novium.fi!
Tutors
Together, with Novia UAS, Novium educates four different tutors. Peer, International, PR, and Education Tutor. A tutor is a student who has a function to supervise and guide other students. All tutors get a special tutor education, student points, a hoodie, and a badge for their overalls. The PR Tutor also gets a salary.
The education is arranged by the person on Novium's Board who is responsible for tutors, together with the Committee of Tutoring and the Secretary of Tutoring. The person responsible for international activity, the committee of international activity, and the Secretary of Tutoring take care of the education of International Tutors. The person responsible for Social Policy, the Committee of Educational Politics, and the Student Affairs Secretary take care of the education of exercise tutors.
International Students
Every year, Novia UAS welcomes a huge amount of international students. Some of the students spend a brief time at Novia UAS, and others spend up to four years as an English speaking full-time student at the university. Novium is a student organisation which has the role of looking after the interests of the international students, as well as their integration in academic life and Finnish society.
Every autumn, the Student Union arranges training for all the international Tutors. The tutors welcome the international students and help them get comfortable with their new studies. The tutors also organise events that help the international students to get to know each other.
In addition to the International Tutors, Noivum also has a committee of international activity. The committee organises an event for all the international students twice a year, once in the autumn and once in the spring. Novium also cooperates with other student organisations to create a wider network for the international students and give them a worthwhile experience in Finland.