Logo
The logo of Novia University of Applied Sciences signals forwardness and modernity. The classical is contrasted by a stylized path or ascending curve that expresses:
education
activity
belief in the future
The logo has two basic versions and a bilingual version
A Swedish language with the descriptive text "Yrkeshögskolan" placed above the name Novia. The logo is either with the text self-contained or placed on a color plate.
The international version with the extension "University of Applied Sciences" under the name. The logo is placed with the text detached.
The bilingual version is used in special cases. Contact our graphic designer if you are in need of the bilingual logo.
The minimum measure of the stand-alone logo is 25 mm logo placed on color plate is 40 mm.
Below is the logo in Swedish and English.

It is not allowed to add other elements to the common logo, change the shape of the common logo or the visual elements in it, add or combine it with other symbols, or distort the logo. A protection zone should exist around the logo, please contact our graphic designer if you have questions.
Questions?
Contact our graphic designer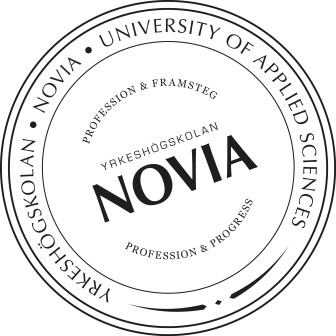 Seal

The seal is used as a watermark on various backgrounds, such as forms in word documents, stationery etc.
(C=0 M=0 Y=0 K=10)
The all-black version is used solely on certificate and other official documents issued by the Headmaster's office.
Download the Seal (Black) EPS JPG TIFF
Download the Seal (Grey) EPS JPG TIFF PDF