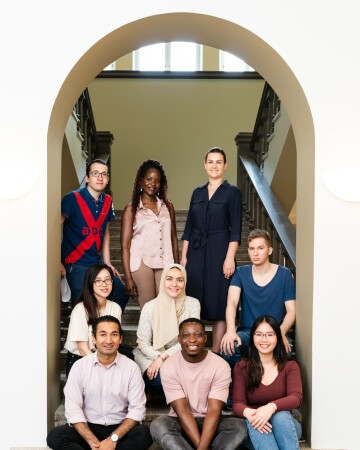 What is Vaasa International Talents?
Vaasa International Talents is a programme that wants to make it easier for international Bachelor's and Master's degree students in Vaasa to integrate into the region's job market.
The Programme aims to bridge the gap between the regions' companies and other working life actors and the talented international people studying at the higher education institutions in Vaasa.
We want to make use of our region's already existing ecosystem of networks to help our students get access into our society and working life.
How do we do it?
Through the programme, participants can develop their skills for Finnish working life, find networking opportunities and get different types of connections to working life actors in the region.
The project is funded by the city of Vaasa and carried out by five higher education institutions: University of Vaasa, VAMK University of Applied Sciences, Novia University of Applied Sciences, Åbo Akademi University, and Hanken School of Economics.
The project is carried out in close cooperation with the regional Talent Coastline ecosystem coordinated by ELY Centre and TE Office, as part of the national Talent Boost programme.
The aim of Talent Boost is to attract international expertise to Finland and to get international experts to stay in the country.
Why are we doing this?
Hundreds of international students are each year studying for a degree in Vaasa. Many of these students want to stay in the region after graduation, but the lack of e.g. personal networks makes it many times difficult for them to find a job.
On the other hand, many reports show that one major obstacle for the growth and internationalization of companies and organisations is the lack of needed competences. At the same time, the competition for the best talents is harsh and global.
Greetings from our lecturers
Johanna Kakkuri - HR Professional
Anna Bertils - Communications Professional
Programme launch and the pilot round
A pilot round of the programme kicked off in March 2021, to which 23 international students on Bachelor's as well as Master's level were accepted. Through lectures, discussions and other activities, the students are during a period of several months offered various possibilities to develop their competencies related to the Finnish working life and job searching, as well as to build their networks.
At the kick-off event, Mayor Tomas Häyry, City of Vaasa greeted the programme participants and stated in his opening remarks that as international students in Vaasa they form a great treasure for the region. Therefore, he sees that a programme of this kind plays a very important role. He noted that whilst 120 languages are spoken by the inhabitants of Vaasa, no less than 20 of these are represented at some level amongst the Vaasa International Talents programme participants.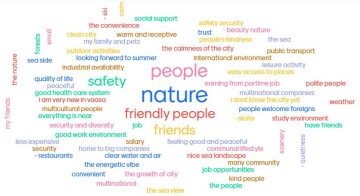 Amongst other things, Häyry brought up the many reasons for choosing Vaasa as a place to live. Finland has again been ranked the happiest country in the world, and Vaasa has the great ambition to become the happiest city in the country – and, as a result, in the whole world. "So, what makes our international talents happy in Vaasa?" In order to find that out, students were asked to share their thoughts during the session. Views from various participants can be seen highlighted in the caption below:
The second guest speaker was Director Paula Erkkilä, Ostrobothnia Chamber of Commerce, who gave an overview of the business environment in the Vaasa region. She painted an encouraging picture of the possibilities to find a meaningful job in the region, mentioning for example the existing energy cluster of 160 companies and on-going innovative projects such as Wärtsilä's Smart Technology Hub. She pointed out that the local job market is, however, much more than engineering: it has been shown that one industry workplace creates one workplace in the service sector, so there is work for many kinds of employees.
The presentations were followed by a discussion. Questions and concerns raised by the international talents included among others, Finnish language requirements by the employers, Covid-19, as well as the specific skills that local employers are looking for. To sum up, the message from both Erkkilä and Häyry was that "although employers look for specific competencies, what can take you a long way is the right attitude. Show that you are willing and eager to learn, that you can work with different kinds of people, that you are self-going and take initiative".
Competence development - Skills for Finnish working life
1. Lectures and discussions
This first part of the programme was steered by HR Professional – Johanna Kakkuri, with intentions of equipping all participants with must-know facts about Finnish and local working life and its expectations on job applicants employees.
Main focus was on:
Insights into the Finnish working culture
Applying for a job in Finland
The job interview
LinkedIn
This session was common for all participants and kicked off right after the programme launch in March 2021, and continued through the spring term. It included the following activities:
virtual guest lectures on different topics
assigned tasks, such as preparing a job application
discussions based on the students' learning journeys
2. Individual coaching
The individual coaching part of the programme was conducted by Communication professional – Anna Bertills, who provided one-on-one tips to programme participants on
CV content and presentation
video introductions
job searches
job interviews
3. Personal Journeys
In this part, three former international students shared how they, in their own ways, have found a way to establish themselves in the Finnish working life:
Volunteering as a strategy to build your network – Bimala Chapagain
Leveraging LinkedIn to strategically network with Finnish Industry Players – Lukumanu Iddrisu
An Entrepreneur's Journey – Armela Totaj
Connections to working life
This part included connecting students with working life actors through:
internships for 2 – 3 months, including partial funding for salary costs
discussion partners (mentoring)